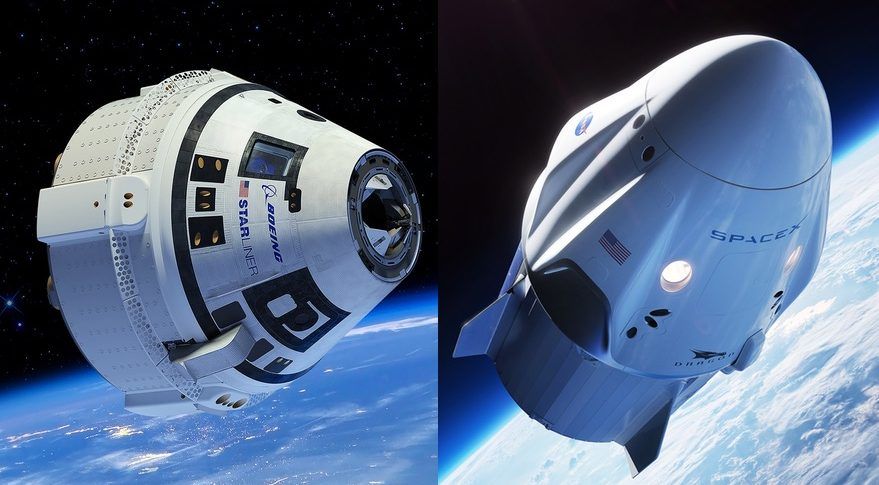 ORLANDO, FLORIDA – With the launch of Boeing's CST-100 Starliner Orbital Flight Test (OFT) tomorrow, and the the scheduled launch of the SpaceX Crew Dragon on an In-Flight Abort Test (IFT) for Jan. 11, 2020, the NASA Commercial Crew space race will most likely come to an end in 2020. With the return of crewed launch to US soil, it is pertinent to take a look at both programs, their advantages and disadvantages, and the costs associated with each.
Why a Space Race?
With the cancellation of the Shuttle program in 2011, the US and NASA lost their ability to launch humans from the US soil. In the interim, an agreement was made with the Russian space agency, Roscosmos, to purchase seats on their Soyuz launch system at approximately $86 million per seat. In 2010, seeing the end of the Shuttle program in sight, NASA developed the Commercial Crew Program (CCP), to invest in research and development of launch technologies. This new public-private approach allowed NASA flexibility in investing relatively small amounts of money into companies that showed promise in these areas, with the guarantee of further money to be invested once results were delivered.
Throughout several rounds of investment, NASA provided technical feedback to each company with which they were partnered. While Boeing was listed in the first round of investment, SpaceX was not a competitor for these grants until the second round. Throughout the CCP, Boeing has received a total funding of $4.82 billion, while SpaceX has received a total of $3.144 billion. With these investments, Boeing and SpaceX have shown that they are willing and capable of living up to NASA's standards for human spaceflight and delivering a high-quality final product.
Boeing's Starliner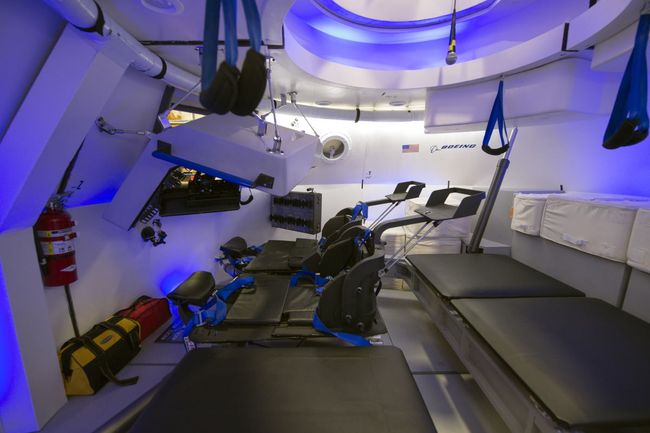 Boeing has a long history of working with NASA. Companies which now fall under the Boeing umbrella have been involved with NASA programs from the very beginning of the US-Soviet Space Race. From Mercury capsules in the 1950's through today's SLS rocket and the Starliner, Boeing is steeped in NASA history.
Boeing's approach to the Starliner project has been to build upon their lineage from Apollo, the Shuttles, and the ISS. Staliner capsules are designed to be used with a variety of rockets, including the ULA Atlas V and the SpaceX Falcon 9. The capsule is smaller than the Lockheed Martin constructed Orion capsule, but boasts the ability to lift up to 7 astronauts at a time to low-Earth orbit (LEO). Working with this capacity, Boeing plans on making 4 seats available for ISS trips, with the remainder of that capacity being used to bring supplies. Each capsule has a use expectancy of 10 flights.
For the Starliner the landings will be conducted on land using a combination of parachutes and rockets. This allows for greater reusability of the craft.
Per the Office of Budget and Management (OMB), a government watchdog agency, with a capacity of 4 seats the cost for NASA to launch astronauts on Starliner will be about $90 million per seat. This number has been downplayed by Boeing, as it doesn't take into account the extra supply capacity of the capsule.
SpaceX and Crew Dragon
While Boeing has a long history of design and flight for NASA, SpaceX is a relative newcomer to the field. SpaceX was started by Elon Musk in 2002 with a view of reducing launch costs and leading the way to Mars. As a small company, SpaceX has greater flexibility in the way they operate and confront challenges. For example, after the loss of a Falcon rocket carrying supplies to ISS in 2015, the company had an exact copy of that rocket on the test stand within just a few days developing theories and providing a solution to the problem within months. This ability to pivot roles rapidly alongside their ability to mass produce the rockets, engines, and capsules, and their philosophy of reusing every part that can possibly and safely be reused means that SpaceX has been able to decrease the cost of launch significantly.
The Crew Dragon variant of the Dragon capsule is, like the Starliner, smaller than the Orion capsule. Unlike the Starliner, Crew Dragon is only designed to launch atop the Falcon 9 Block 5 rocket. Each Crew Dragon is capable of carrying a crew of 7, but only 4 seats will be made available for ISS missions, with the remainder of the capacity being used for supplies. SpaceX has not released figures concerning reusability of the capsule, but it will most likely be on the order of 10-15 flights before retirement.
As for landings, SpaceX has taken the NASA sponsored route of precision ocean landings using parachutes. This leads to less reusability, as any portion of the spacecraft which is exposed to seawater would have to be replaced. However, Crew Dragon was designed with land landings in mind, and has that capability once the program has been proven.
In the same report as above, OMB stated that the typical cost per seat of a Crew Dragon launch would be around $55 million, based on four seats. NASA has stated that those estimates should be less due to cargo plus personnel capabilities. Elon Musk was only rankled at the fact that Boeing will be paid more for the same trip.
The Race is On!
With Starliner's OFT and Dragons IFT coming within the next month, this is an exciting time for spaceflight enthusiasts. SpaceX has proposed a February 2020 launch of the Crew Dragon on the Demo-2 crewed test with astronauts Doug Hurley and Robert Behnken aboard. Originally planned as a 14-day test flight, NASA is considering extending that flight to allow for a standard crew turnover for ISS.
Each of the upcoming flights, IFT and OFT, are the last planned test lights before crewed operations commence. In the near future, US astronauts will leave the US and return in American made capsules, run by American companies. Who will get there first? Will it be the steely-eyed veteran Boeing, building upon years of experience; or will it be the wily newcomer SpaceX, changing the game as they develop new technologies? That question will be answered in the next year. Either way, get your popcorn ready, it's gonna be one heck of a show.